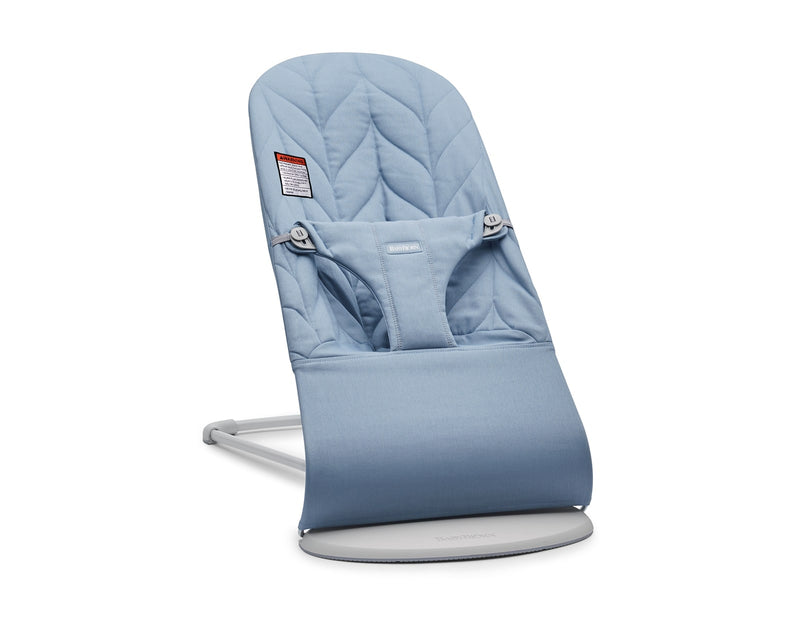 BabyBjörn
Bouncer Bliss - Cotton
new
Free Shipping on $75+
This item is final sale.

Why we picked this

Family-Founded

Ergonomic Fit

Award-Winning
Description
This cotton Bouncer Bliss from BabyBjörn is an ergonomic baby bouncer, designed for natural rocking to make life with young children easier and more enjoyable! The lightweight and portable baby bouncer has a removable fabric seat constructed of quilted cotton with a soft and snuggly feel. The bouncer is easy to move around and take with you anywhere providing a safe and cozy place for your little to rest or play close by while leaving your hands are free! The natural rocking of the bouncer (generated by your baby's own movements) has a comforting effect for young baby and as your baby grows and learns how to control the rocking, the bouncer becomes even more fun and will stimulate their balance and motor skills.
This bouncer has become so popular amongst parents because of its thoughtful features: 
- Extremely easy to fold down (completely flat!) for easy storage and can fit perfectly in the basket under your stroller
- Adjustable harness with locking snaps (two positions to choose from) ensuring safe, secure fit
- Machine washable fitted fabric seat that distributes your baby's weight evenly
- Ergonomic design providing optimal support for your baby's back, neck and head
- Three different height positions so that you can adjust it as your baby grows
- Converts into a child seat by simple reversing the fabric seat once your child shows signs of trying to sit up unaided
This item is not eligible for discount codes.
Additional Details
Highest position dimensions: 22" x 31" x 15"
Transport dimensions: 4.5" x 35" x 15.5"
Weight: 4.6 lbs
Made of quilted fabric in 100% cotton
Bouncer min weight: 8 lbs; max weight: 20 lbs
You can use the product as a bouncer until your child weighs 20 lbs or starts trying to sit up. Remember to keep your baby under constant supervision, use the safety harness and double-check that the snaps are locked (you can choose between two positions) when using the product as a baby bouncer.
Chair max weight: 29 lbs
When your child has learned to walk and sit down unaided, simply turn the fabric seat around and use the product as a comfy children's chair.
Bouncer Bliss is machine washable on warm (40°C). The fabric seat should be washed separately but should not be tumble dried. Please use a mild, eco-certified detergent and strictly follow the dosage instructions.
About the Brand
BabyBjörn is a Swedish family-owned company that manufactures safe and well-designed, quality products for babies and parents worldwide. They are passionate about simplifying everyday life, nurturing closeness and helping families with young children enjoy each precious moment.
Shipping & Returns
Ships from BabyBjörn to the contiguous United States
This product is not eligible for any discounts or promotional codes
Final Sale
Recent Reviews From Parents