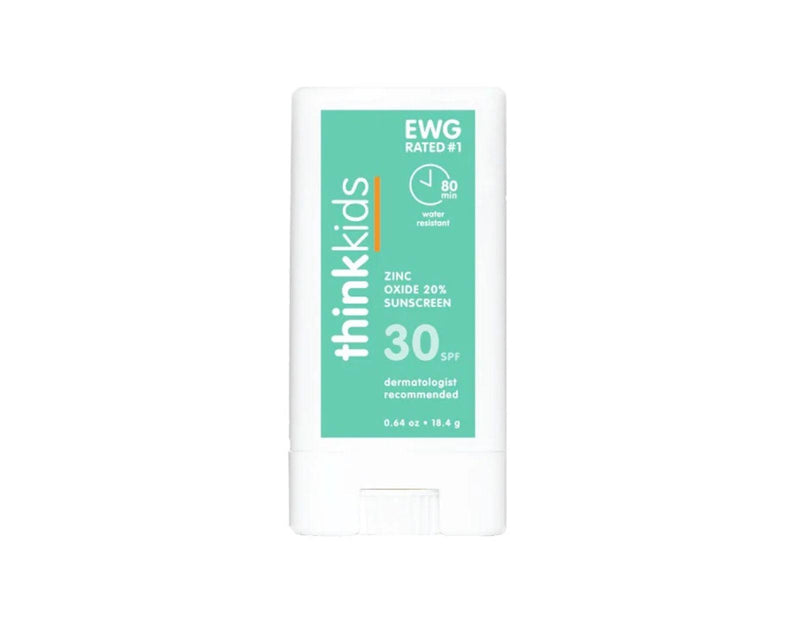 Think
Thinksport Kids Sunscreen Stick SPF 30
Free Shipping on $75+ & Free Returns

Why we picked this

Non-Toxic

Gives Back
Eco-Friendly
Description
This SPF30 Thinksport Kids Sunscreen Stick is an easy and quick way to protect your child from the sun! A water-resistant and broad-spectrum body and face sunscreen that provides UVA & UVB protection, the easy-to-apply stick absorbs easily with a non-oily feel.
Other top features include:
- Oval design for easy carrying in your front pocket
- Water Resistant up to 80 minutes
- Mineral based
- Non-Aerosol formulation
- Paraben free
Additional Details
Dimensions: 1.5" x 0.5" x 3", 0.64oz
Active Ingredient: Zinc Oxide 20% (Non-nano)
Free of biologically harmful chemicals: no PABA, parabens, phthalates, BPA, oxybenzone, avobenzone, petroleum, gluten, dairy, or toxic chemicals. No animal by-products or testing. Non-aerosol formulation.
Comes in a tube made of environmentally friendly packaging that does not contain BPA, vinyl, or phthalates. Each tube is marked with an expiration date.
Maintains its SPF after 80 minutes of water immersion. The Environmental Working Group and the FDA recommend reapplying sunscreen every two hours.
Perfect for sensitive skin. We recommend testing on a small area of the body to ensure that you don't have any sensitivities.
Applies easily and absorbs quickly. Be sure to apply all areas that will be exposed to sunlight, including behind the ears, neck, hands, feet, and scalp. Reapply every two hours or more as needed.
Ages: 6M+. Please note that use of sunscreen on children younger than 6 months of age requires a doctor's prescription. This is true for ALL brands.
About the Brand
Think was founded with a mission to create functional, clean, and sustainable products informed by science. Using the latest insights in chemical and biological science, the Think team is dedicated to using safer materials for consumer products to offer better alternatives for products already on the market.
Recent Reviews From Parents