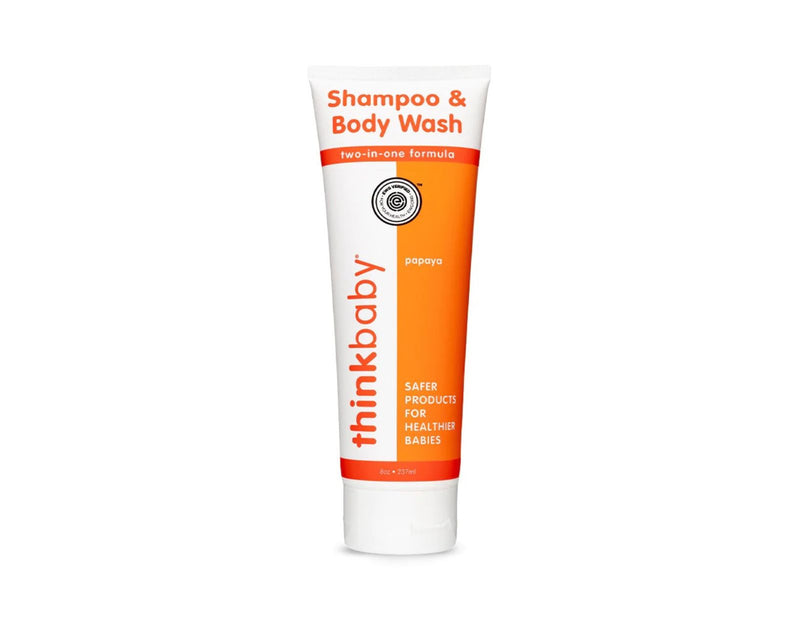 Think
Thinkbaby Shampoo & Body Wash
new
Free Shipping on $75+ & Free Returns

Why we picked this

Parabens, Phthalates, 1,4-Dioxane

EWG Verified

Non-Toxic
Description
This Thinkbaby Shampoo & Body Wash is a dual-action cleanser that works to keep your baby's hair and body clean without harsh chemicals or drying sulfates. With a single gentle, cleansing formula, hair and skin is left silky soft and smelling fresh! 
Enriched with Aloe, Green Tea and Papaya, this pediatrician dermatologist recommended non-toxic cleanser is gentle enough for everyday use, and the no tears formula will keep babies smiling during bath time, even if they get soap in their eyes! The effective and safe 2-in-1 shampoo and body wash will truly keep your little one clean from head to toe!
Additional Details
Size: 8oz
Made of Green Tea, Aloe, Papaya
Free of Parabens, Phthalates, 1,4-Dioxane, Sodium Lauryl Sulfate, and other harmful chemicals
Vegan, no animal testing, pediatrician dermatologist tested
EWG Verified
Instructions: Gently apply to your baby's hair. Rinse thoroughly. Avoid getting into their eye, nose, or mouth.
About the Brand
Think was founded with a mission to create functional, clean, and sustainable products informed by science. Using the latest insights in chemical and biological science, the Think team is dedicated to using safer materials for consumer products to offer better alternatives for products already on the market.
Recent Reviews From Parents