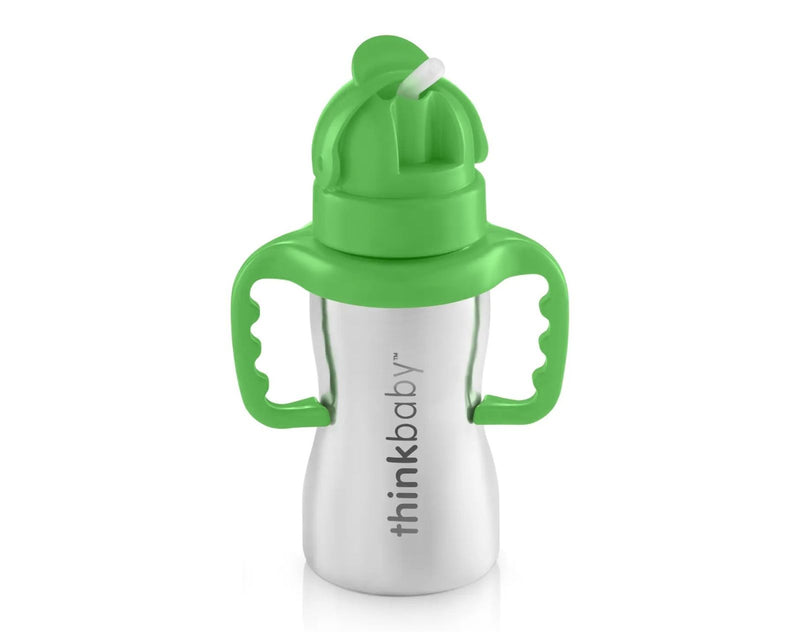 Think
Stainless Steel Water Bottle
Free Shipping on $75+ & Free Returns

Why we picked this

Travel Friendly

BPA, Phthalates, PVC

Gives Back
Description
Say goodbye to spills thanks to the Think Stainless Steel Water Bottle. Designed to reduce spillage with an easy-close swivel top and medical-grade silicone no-spill straw, this bottle is the perfect size and shape to help your little one transition from sippy cup to water bottle. Double handles allow for a solid grip for little hands!
Additional Details
Dimensions: 2.75" x 5.5" x 7.25", capacity is 9oz
Base of bottle is made of ultra-polished 304 stainless steel, top is made of No.5 plastic polypropylene, straw is made of medical-grade silicone
Free of BPA, phthalates, nitrosamines, lead, PVC, PET, and other biologically harmful chemicals
Dishwasher safe (top row recommended)
Ages 16-48M
About the Brand
Think was founded with a mission to create functional, clean, and sustainable products informed by science. Using the latest insights in chemical and biological science, the Think team is dedicated to using safer materials for consumer products to offer better alternatives for products already on the market.
Recent Reviews From Parents