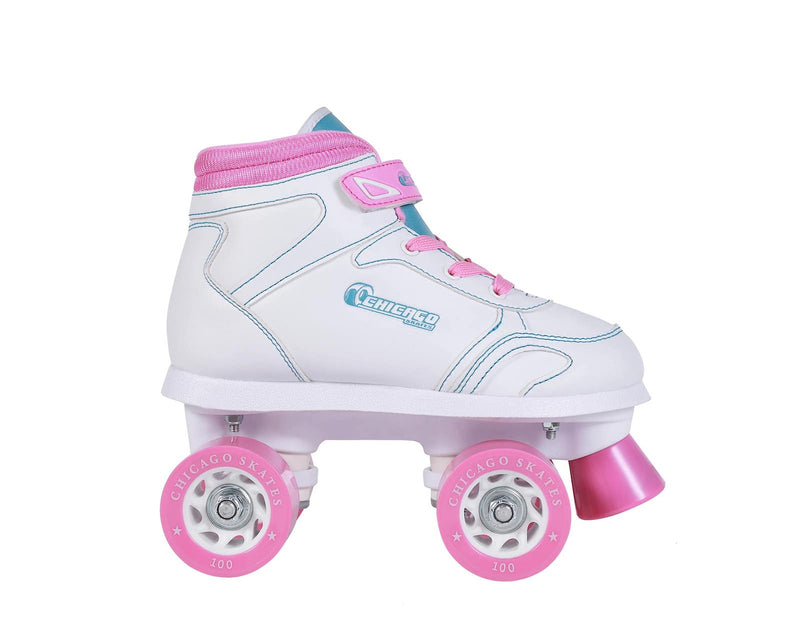 Chicago Skates
Sidewalk Quad Skate
new
Free Shipping on $75+
This item is final sale.

Why we picked this

Gross Motor Skills

Balance

Adjustable
Description
This Sidewalk Quad Skate is strategically designed for gliding but is also a popular choice for all-around rink and social skating, even for beginners! Featuring a controlled high-top boot for optimum safety as well as high quality laces for maximum protection leaving your child's foot comfortable and secure, this skate includes 4 premium oversized wheels for an even more enjoyable ride! Easy to pull on and off, the lightweight boot has a lace-up front with a fold-over velcro strap at the top for a secure and convenient fit, semi-precision bearings, high impact double adjustable chassis and truck, a self-adhesive power strap as well as a built-in toe stop. 
This product is not eligible for any discounts or promotional codes.
Additional Details
Size 12: 7.87" age 5-7
Size 13: 8.07" age 5-7
Size 1: 8.46" age 6-7
Size 2: 8.78" age 6-8
Size 3: 9.06" age 7-9
Size 4: 9.45" age 8-10
Size 5: 9.80" age 9+
About the Brand
Chicago Skates has been the leading brand in the skating industry since its founding in 1905. They combine innovation with traditional clean and sleek designs and have created the classic standard all over the world.
Shipping & Returns
Ships from NSG to the contiguous United States
This product is not eligible for any discounts or promotional codes
Final Sale
Recent Reviews From Parents