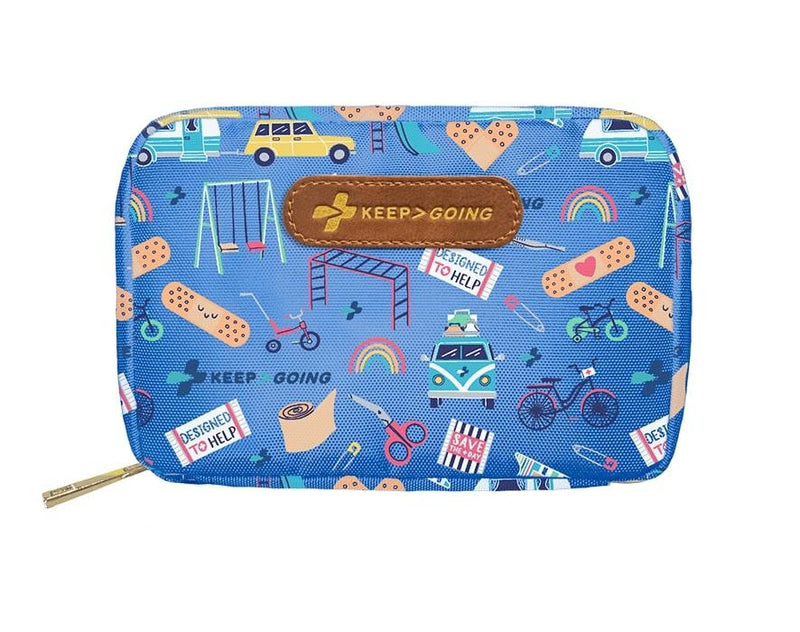 Keep>Going First Aid
First Aid GoKit
new
Free Shipping on $75+ & Free Returns

Why we picked this

Parent-Founded

Travel Friendly

Small Business
Description
The First Aid GoKit includes 130 pieces of first aid gear you might need to treat your little one's skinned knees, stings, cuts, minor burns, ticks, blisters, nosebleeds, splinters, and more on-the-go! All contents are 100% latex-free, and everything is water and stain resistant as well! The organized and compact kit that comes with a handy strap includes:
- A variety of bandages and stickers in different patterns, sizes and shapes
- Stainless steel scissors, metal tweezers, 5 cotton tip applicators, finger splint and 2 tick removers
- Lip balm, 4 triple antibiotic ointments, 2 hydro-cortisone creams, 2 first aid burn creams and 2 hand sanitizers
- Disposable thermometer, first aid tape roll, 5 safety pins, mini sewing kit and 2 nosebleed plugs
- 2 sterile gauzes, 4 non-sting cleansing wipes, 2 alcohol pads and 2 sting relief wipes
- First aid guide and Moleskin padding
Additional Details
Dimensions: 6.75" x 5" x 2"
Includes 130 pieces
All contents are 100% latex-free
About the Brand
KEEP>GOING is a small family-owned business with one goal in mind: Help families keep going and having fun on their daily adventures. Founded by an American-German couple that loved travel, KEEP>GOING set out to create stylish, organized first aid kits for families on the go.
Recent Reviews From Parents