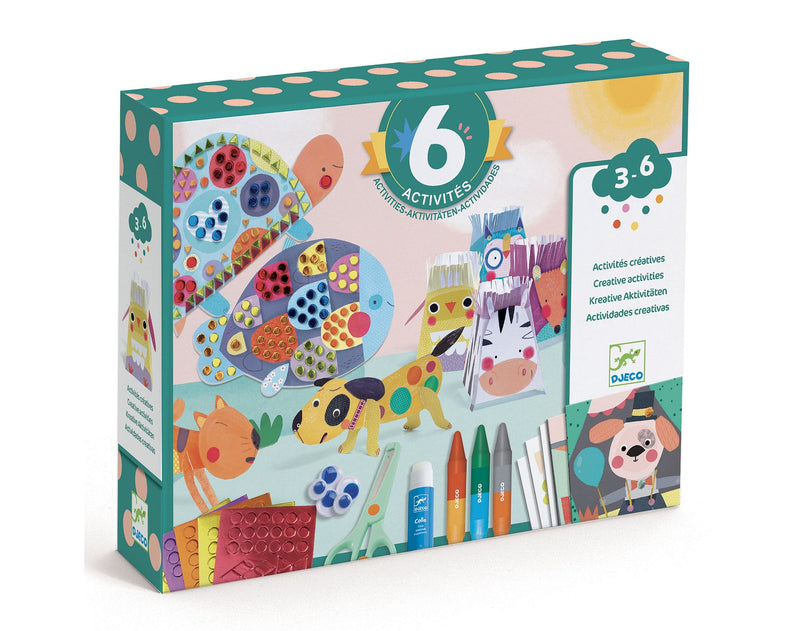 Djeco
Animal Multi-Activity Craft Kit
new
Free Shipping on $75+ & Free Returns

Why we picked this
Sparks Creativity

Fine Motor Skills

Women-Founded
Description
This Animal Multi-Activity Craft Kit is a set of 6 animal-themed creative activities and projects including collages, coloring, mosaics, cutting, assembly, and transfers. There is truly so much to discover with this set that is sure to provide endless hours of fun and help develop dexterity, manipulation, precision and creativity.
A booklet with step-by-step instructions will guide your little ones in their creations while they learn about colors, shapes, sizes, volume, and more! Best of all, this multi-activity set allows several children to create together, making it perfect for playdates, birthdays, or even the classroom!
Additional Details
Gluing: 1 illustrated card measures 8.27" x 11.02", 2 pre-cut thick cardboard sheets, 6 pompoms, 2 googly eyes, 1 tube of glue
Coloring: 2 illustrated cards (8.27" x 11.02"), 1 sheet of stickers, 3 double-ended wax crayons (6 colors)
Decoupage: 4 illustrated sheets measure 8.27" x 11.02", 1 pair of safety scissors, 8 googly eyes
Rub-on transfers: illustrated card measures 11.02" x 24.8", 2 transfer sheets
Mosaics: 2 thick, shaped boards (8.27" x 11.02"), 3 sheets of metallic foam mosaic stickers
Towers: 3 sheets of illustrated and pre-cut thick cardboard, 1 sheet of stickers measure 8.27" x 11.02"
Ages 3+
About the Brand
Djeco creates award-winning games and activities that are as fun to look at as they are educational. Fiercely-committed to quality, design, and safety, Djeco's products are instantly recognizable and loved by children in over 60 countries.
Recent Reviews From Parents