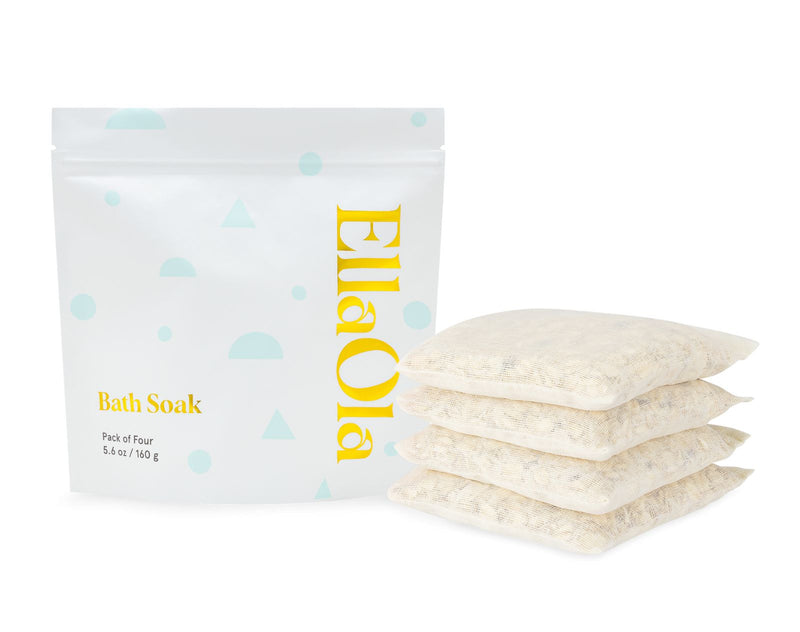 EllaOla
Organic Bath Soak - Pack of 4
new
Free Shipping on $75+ & Free Returns

Why we picked this

EWG Verified

Carcinogens, Allergens, Sulfates
Made in the USA
Description
This 4-pack of Organic Bath Soak will make bath time a soothing, calming experience! Developed with pediatric dermatologists, each soak pack is filled with a blend of organic colloidal oatmeal, organic coconut, organic decaffeinated black tea and restorative, mineral-rich salt from the Dead Sea, and prebiotics to maintain a healthy microbiome. Each pack is handmade with organic, ultra-soft and biodegradable muslin cotton and can be used as a gentle washcloth during bath time. Key features include:
- Soothes and softens itchy, dry, or eczema-prone skin
- Soap-free cleanser alternative for babies with sensitive skin
- Organic, handmade, dye-free and biodegradable muslin sachets
- Formulated without fragrance, essential oils or parabens
- Hypoallergenic
Additional Details
Size: 5.6oz / 160g
Handmade with organic, ultra-soft biodegradable muslin cotton
Key ingredients: Organic Colloidal Oatmeal, Organic Coconut, Decaffeinated Black Tea, Dead Sea Salt
No carcinogens, skin irritants, allergens, endocrine disruptors, questionable natural ingredients, synethtic fragrances, essential oils, sulfates, parabens, phthalates, oxybenzone, steroids, PEGs, dyes, propylene glycol, formaldehyde releasers
Certifications: EWG Verified, USDA Certified Biobased Product, National Eczema Association Seal, USDA Organic, Made Safe, NSF/ANSI 305
Instructions: Soak one pack in warm bath water for 1-2 minutes, then squeeze to release an extra dose of restorative, soothing natural actives into tub. No need to rinse. Elevate your baby's experience and use our soft, organic cotton sachet as a washcloth.
Tips: Bath soaks can be used once a week; can increase to twice a week if skin is irritated or dry. Bathe for up to 10 minutes. Apply moisturizer immediately after bathing from head to toe is recommended.
About the Brand
EllaOla offers next generation skincare, bringing the latest science and gentlest plant-based touch into every baby formula developed with experts in dermatology and pediatrics. They thoroughly test every product to make sure their formulas are stable, hypoallergenic and free of contaminants, heavy metals and harmful bacteria. As part of their commitment to making skin health accessible to every family, they also partner with a local non-profit to provide onsite access to dermatologic care for underserved families.
Recent Reviews From Parents