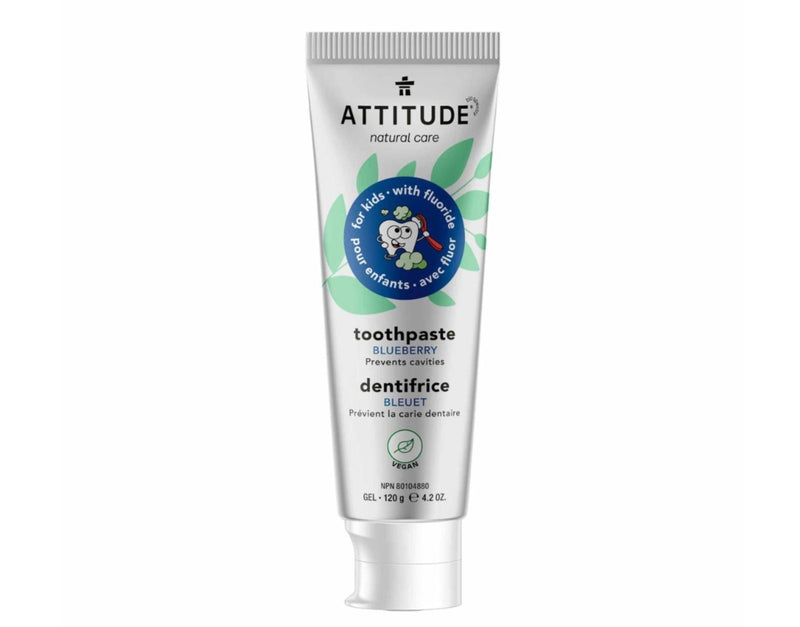 Attitude
Attitude Kids Toothpaste
new
Free Shipping on $75+ & Free Returns

Why we picked this

EWG Verified

Gives Back

Natural Materials
Description
The Attitude Kids Toothpaste with fluoride is perfect for teaching your little ones healthy dental hygiene habits, thanks to its delicious, natural blueberry flavor. The paraben-free and alcohol-free vegan toothpaste is made with plant and mineral ingredients like green tea leaf which has antioxidant properties, and papaya leaves which contain papain, and the combination of these ingredients plus the action of brushing contributes to reduce dental plaque! Since its formula contains fluoride sodium, this natural toothpaste helps prevent cavities and also protects your child's teeth from acid erosion when used regularly. The toothpaste also helps rebuild fragile areas of the tooth and remineralize enamel. Thanks to its natural taste, brushing teeth will be more attractive and fun for your little one!
Additional Details
Size: 4.2oz
Made from plants and minerals such as green tea leaf, which has antioxidant properties, and papaya leaves, which contain papain. Contains sodium fluoride, an ingredient recommended by dentists that helps prevent cavities. Fluoride is a natural trace element. It is commonly found in rocks, in the form of calcium fluoride and can also be found in groundwaters. This toothpaste with fluoride was developed to protect teeth against cavities, help remineralize tooth enamel, rebuild weak spots, prevent tooth decay and protect teeth against acid erosion.
Free of alcohol and parabens
Vegan, cruelty-free, PETA approved
EWG Verified
Eco-friendly packaging: sold without a cardboard box in Biodegradable packaging tubes
For every product purchased, Attitude plants a tree to reduce their carbon footprint and help preserve the planet's ecosystems.
Do not swallow. Consult a dentist or health care professional before using with children under 2 years of age.
About the Brand
Parent-founded Attitude develops safe, clean and performance-driven beauty and home products in innovative, low-waste packaging that parents can trust. From eco-refills and recyclable bottles to biodegradable FSC certified cardboard, their products are designed to reduce the plastic waste in daily rituals. Since 2020, they have planted over 1.5 million trees to help preserve the planet.
Recent Reviews From Parents